Feb 02|| I illustrated the "Field Guide to Divorce Lawyers" for the February issue of Town and Country....
Jan 14|| In keeping with the tradition of editorial year end reviews, Ben Voldman got to work with Greg Gilli...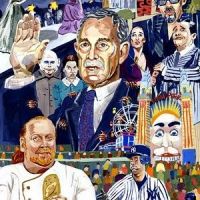 Dec 13|| Ben Voldman was asked by Lauren DeCarlo over at Manhattan Magazine to illustrate a mash-up of 2010's...
Dec 02|| Ben Voldman recently illustrated for the December issue of Runner's World. Ben painted portraits of...
Sep 26|| Jersey Shore's Snooki is a fan of Ben Voldman's work! She tweeted that she loves his illustration o...
Aug 09|| Ben Voldman illustrates the cover for the July 28th issue of Williamette Week. The headline story, ...
May 27|| Playboy magazine is once again having their "College Fiction Contest" and they asked students in SVA...