Aug 26|| Dan Santoni's latest photoshoot with Margaret Cho is part of his "Moan of Arc" series taken at the I...
Jun 05|| Dan Santoni just did a shoot with actress Danielle Andrea Harris. Her credits include work on Rob ...
Oct 07|| Front and back covers of Tina Guo-Morabito's cd, Eternity, shot by international LA based celebrity ...
Sep 24|| Check out the cast of Syfy Channels MONSTER MAN, along with Marie Frances, author of NIGHTHAWK (Amaz...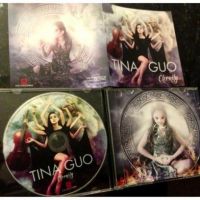 May 02|| Dan Santoni photographed the front cover and CD for Tina Guo's CD 'Eternity' as well as the single b...
Nov 27|| Dan Santoni's sneak peek preview of amazing photoshoot with producer/song writer, John Fryer whose r...
Nov 06|| This original photo was taken by Dan Eldrige and the photo editing/post work was done by Dan Santoni...
Oct 22|| Dan Santoni photographed the cover and interior of the January 2013 Tina Guo Solo/Composition Album ...
Jul 31|| Dan Santoni's Artwork/Cover for Tina Guo's upcoming Fall 2012 Cinematic Album Release: ETERNITY. Th...
Mar 13|| Dan Santoni photographs Scott Weiland from Stone Temple Pilots. Images were taken for Dean Guitars ...