Jun 17|| Joey Feldman celebrated the recent birthday of Bob Dylan by illustrating a wonderful new portrait of...
Mar 04|| January saw the opening of Artsy's LA Art Show, in which illustrator Joey Feldman had several piec...
Dec 17|| Joey Feldman's tribute illustration to Timothy Leary depicts the psychedelic themes that are of cour...
May 04|| It's now been over a year since the entire music industry lost one of its most beloved and influen...
Oct 13|| If you have been thinking about buying one of illustrator Joey Feldman's "Emerald City" prints, now ...
Sep 20|| Though it's common for artists to verbally explain their working-process, quite rarely do we eve...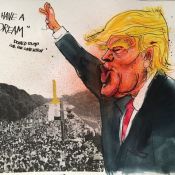 Aug 01|| There has been a lot of buzz in the media lately regarding the accusations of plagiarism after Donal...
Nov 23|| Mixed-media illustrator Joey Feldman have recently been selling a large number of his hand-made prin...
Oct 19|| Joey Feldman's self promo piece of Charles Darwin, man with beard will be in the 54th annual show in...
Sep 21|| On September 6, illustrator Joey Feldman published this striking piece of art on his Facebook page; ...
Sep 14|| Illustrator Joey Feldman recently paid tribute to two former Jazz-legends in his latest projects, wh...
Jul 28|| Joey Feldman has long been known for his spot-on illustrations of famous people that are currently i...
May 15|| Illustrator Joey Feldman's tribute to the great B.B. King. "The blues was bleeding the same blood...