Mar 14|| Lyn Alice creates a new botanical book illustration, "Allium sativum", better known as Garlic to her...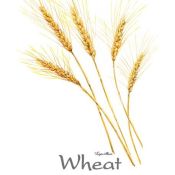 Feb 08|| This lovely illustration of "Triticum dicoccum", more commonly known as emmer wheat, was recently il...
Feb 05|| Botanical Book Illustration created for British Columbia's Best Selling Gardening Author, Lynn Alice...
Oct 23|| Lyn Alice was asked to created black and white ink images for Fedco Seed Catalogue. In this batch, ...
Sep 27|| Lyn Alice was asked to create a spot illustration for Fedco Seeds New Catalog. Lyn approached a few...
Aug 17|| Asked to create a unique and distinguishing logo for a high caliber horse trainer, who's specialty...
Jun 04|| Lyn Alice's final illustration for Aldrich Design in Minnesota. "This was a challenging assignmentâ...
May 09|| Lyn Alice's recent t-shirt design is available today! Definition of Grandchild ~ Original T-Shirt...
Feb 08|| Lyn Alice creates another fashion illustration for Hunt to Harvest ~ Watercolor....
Dec 14|| Illustrator, Lyn Alice, adds another addition to her series of Christmas Cards. Here's an old fashi...
Nov 29|| The most wonderful time of the year is almost here, and so are all the upcoming holiday greeting car...
Aug 31|| Lyn Alice illustrated and designed, Alabama's quarterback, Jalen Hurts, for Football Fashion....
Jun 22|| The master of illustrated greeting cards is back, and this time, Lyn Alice is sharing some beautiful...