Mar 13|| Few people are as sought after when it comes to shooting portraits of major public figures as Robert...
Aug 10|| This summer, SSAFA (the Armed Forces charity) celebrates the official 100-year-mark since women were...
Dec 12|| Not long ago, "Cycling's golden couple", Laura Trott and Jason Kenny, who together share 10 Ol...
Sep 26|| Earlier this summer, photographer Robert Wilson received an opportunity that not many other people i...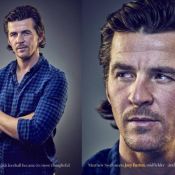 Aug 27|| Photographing interesting public figures is not something rare for Robert J Wilson, who has shot mor...
Jul 24|| Robert J Wilson recently got to spend some time in the Solent (outside the mainland of England) on b...
Feb 24|| In April 2014, Robert Wilson travelled to Afghanistan to record the withdrawal of British troops. Th...
Mar 10|| While Photographer Robert Wilson was in Dublin working with Art Director Paddy Thunder, and creative...
Jan 28|| Photographer, Robert Wilson, was invited by the British army to go to Afghanistan as a War Artist. ...