Seattle Times NFL Preview Cover Illustration
[ Posted: Sep 01, 2017 ]
Seattle Times - Legion of Boom Animation Teaser from Lacko Illustration on Vimeo.
With record temperatures keeping South Florida locals indoors this summer, Miami Beach artist Lacko Illustration has his eye on the start of the NFL PreSeason which marks the debut of his animated Mechagodzilla cover for The Seattle Times. Celebrating the contributions of the defensive backs for the Seattle Seahawks who are nicknamed the "Legion of Boom," Lacko created a hybrid football Kiru (Japanese for "machine dragon") wearing Seahawk colors and fiercely guarding the ball.
Starting out with pencil sketches based upon the specific contortions of an NFL defensive player combined with the massive robotic structure of the Japanese extraterrestrial super villian, Lacko began to merge the mechanical with the muscular. "I struggled to make a 1970's era space monster look more athletic. The one unifying factor for both characters is the notion of the BOOM, the moment of impact when monsters collide or players like Richard Sherman impact the ball."
Lacko's full length monster will cover Washington's largest-circulation daily newspaper on September 4th, reaching nearly 350,000 readers in the Pacific Northwest. To add a layer of excitement to the NFL season launch, Lacko also created a 20 second animated spot featuring the booming footsteps of a massive Seahawk Mechagodzilla batting away a football.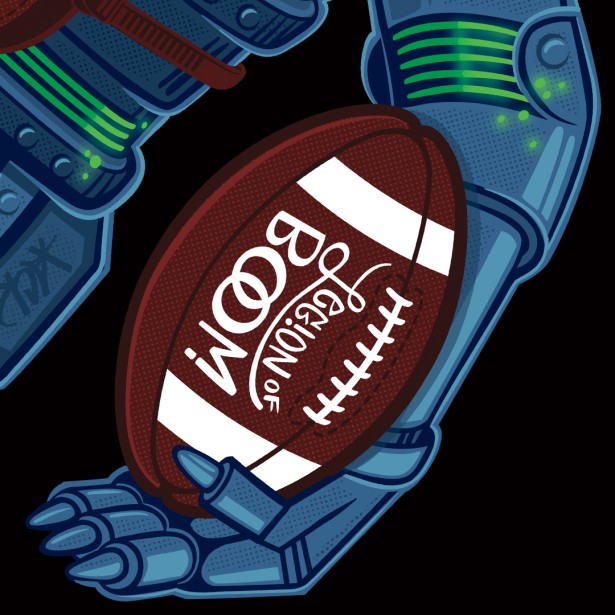 Related Links

- LACKO ILLUSTRATION's Altpick Portfolio