John Lacko is Hopping in France...
[ Posted: Apr 10, 2006 ]
Rabbits and Bunnies and Hares - Oh My! John Lacko is Hopping in France...

The last thing you want to do is get a bunch of rabbits together. One thing leads to another and -
more rabbits! The folks at Pictoplasma in Berlin decided to do just that. They invited internationally
established and emerging illustrators from around the world to participate in a BUNNY MANDALA, a
collection of submissions of THE ESSENCE OF RABBIT.

The results are astounding!

Illustrators, it seems, are a lot like bunnies and can't stop making more rabbits. Altpick's own JOHN
LACKO submitted a half dozen hoppers to the mix and spent hours searching through the clever
matrix to find his wandering bunnies. It turns out more than 1,500 individual rabbits from more than
500 international contributors were submitted. Pictoplasma's Art Director, Alex Fuchs, needed 12
months to sort through the entries and curate the final presentation.

See the results at:

http://www.pictoplasma.com/bunny/index.html

According to PIctoplasma, " No other living creature features as heavily in contemporary character design and art as the humble hare. But what exactly makes bunnies so irresistible to artists, designers and illustrators worldwide? Depending on the viewers' cultural context rabbits can
symbolize anything from insanity, alertness, defenselessness, all the way to promiscuity, magic powers and utter innocence. By condensing the endless variations of the rabbit motif into one ultimate system - a perfect bunny mandala - the true nature of the beast emerges: the eternal
essence of rabbit. " The premiere presentation of the collected works hop-pens just in time for Easter at the Heliotrope Film Festival, April 11 in Nice, France at La Sous-Station Lebon 22 passage Meyerbeer. Some of
John's entries can be viewed in his Altpick online portfolio.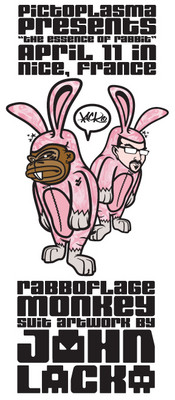 Related Links

- LACKO ILLUSTRATION's Altpick Portfolio