Feb 16|| Illustrator Teresanne Creative's "All About Minnesota" map is featured in "Explore Minnesota Student...
Oct 11|| Any plans on going to Arlington, VA, soon? If you are, you may have great use of the excellent map t...
May 10|| Teresanne Russell's latest travel map was illustrated for the state of Minnesota. "Wonderful project...
Aug 03|| Teresanne Cossetta Russell recently illustrated the map of the Kissimmee area for the Visitor Guide...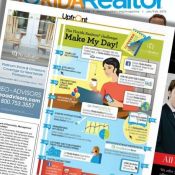 Mar 19|| Teresanne Russell's information graphic project "Make My Day" was for the JAN/FEB 2015 issue of Flor...