Image Foundation's Explosion of Possibilities!
[ Posted: Jun 04, 2013 ]
The Image Foundation recently completed an extraordinary assignment for Eastman developing the 'Cyphrex.' The image and its accompanying animation were developed in CGI.

Cyphrex is a new microfibers technology that has amazing potential due to its strength and durability. The project was directed by Bader Rutter in Milwaukee. The challenge was to show an explosion of possibilities available through the microfiber.

The static image was created first to be used on a variety of print materials. This sophisticated CGI image began with simple pencil sketches to outline the shape, composition, and variety of elements. Once the client signed off on the pencil sketches, the black and white model was created.

The print piece was a big hit! Eastman wanted to create an animation for its annual trade show and to showcase on its website. Many projects today involve both print and motion components and the Image Foundation is staffed to handle everything.

The Image Foundation started the intricate process of translating the still into 3D motion. During the 3D stage, the overall structure revealed its true potential with a few rounds of minor adjustments. Click below to see the Cyphrex animation.

As you can see, The Image Foundation executed these challenges perfectly!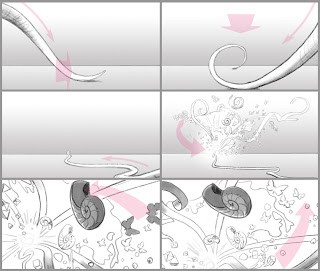 Related Links

- Mendola Artists's Altpick Portfolio
- The Image Foundation's Altpick Portfolio